I've been having a very enjoyable weekend with my family on the Our Father's Farm in southern Virginia. The Fuhrmann family has been so hospitable and I have so enjoyed helping out with farm chores, walking the property, teaching photography, and herding cattle! It's been a huge blessing to be in fellowship with other Christian's of like mind and heart, with similar interests and goals.
This shot was taken this morning while we were milking the cows. It was a bitter cold morning and most of the animals were still huddled away as they awaited the sun to come up.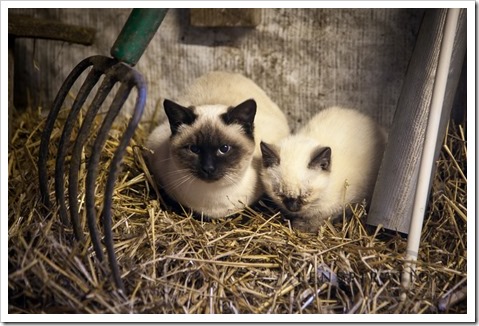 I had to use a fairly high ISO to compensate for the small amount of light in the barn. 1/13sec was a gamble to hand hold at 105mm, but I have a good feel for what the lens' Image Stabilizer can do and I felt like I was in a stable enough position squatting on the floor leaning against a post. There were a few shots with some motion blur, but that was because my subjects blinked an eye or moved a bit during the exposure. There couldn't be a more adorable way to portray life on the farm!