"The learning is in the doing" was my theme for the Event Photography Workshop at the Family Conference in Nashville last week. And we certainly had plenty of opportunity to get some hands-on practice! With more than a thousand attending the Conference and with 3 days to learn, practice, critique, and put into practice again all sorts of things that you wouldn't think of unless you're actually doing it, I would say we all came away with at least a few shots that we were happy with. Here are a few of the shots that I liked best from the participating photographers.
Posing groups can be very challenging, especially when you don't have any props or walls or things to have the subjects interact with. But at a large event you don't have a lot of time to pose shots so simple set ups are great. It makes the people look more relaxed anyway. If there's no need to perfectly pose, don't worry over it. But knowing a few things about posing does help, like having standing subjects shift their weight onto one hip, or getting people to spread out so they don't look too bunched up.
Photo by David
I absolutely love this shot. Why? Not because of the composition really; it's centered. Not because of the lighting; the face is kinda in shadow and there's lots of red reflection on the face from the carpet. I love it because of the expression. It is just so natural. So perfectly child like. And these kind of shots are never posed. In fact, David told me that he was setting up for a shot of something happening in the background when this guy walked in front of the camera. David knew his camera and settings, especially how to change the focus points I would guess, well enough to enable him to capture the moment in the spit second of time that he had.
Photo by PB
Again, the moment of time is what was captured here. Notice that the main subjects are well exposed while the background is washed out. In most cases, especially people photography, it's ok if you have blown out highlights if they are not part of the main subject.
Photo by Lindsay
Even though the room was dark, Lindsay managed to get a sharp picture without camera-shake by keeping an eye on her shutterspeed in relation to her focal length. It required a relatively high ISO, but grain is something that can be taken care of relatively easily in Lightroom. A blurry picture can't be fixed of in any program. The first element of any good picture is it's sharpness!
Photo by Samuel
How do you describe it? It's just a great shot! Emulation? Teamwork? Leadership? It's so serious and so funny at the same time.
Photo by Zyrek
Even though it's not necessarily aesthetically inspiring, this shot tells you exactly what's going on, and just how pleased the conductor is with how well it's going! Also, it's tack sharp, and yet there is that hint of blur in the wand that speaks of movement and energy. You can almost hear the orchestra playing "It Will Be Worth it All".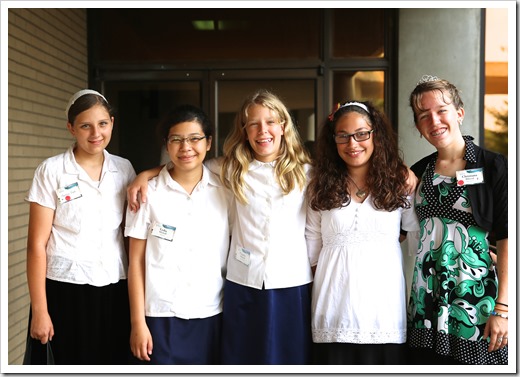 Photo by Patricia
When the room where the COMMIT girls are meeting is so dark it's difficult to shoot at anything less than 2500 ISO, then take the shots while they're outside! Planning a schedule around what your subjects will be doing is a big part of a photographer's work.
Photo by DP
The picture tells the story! ALERT Cadets at it's best.
Photo by Julia
Another big part of the photographers job is to choose during post-processing the best capture out of a series of pictures taken of one subject. What is the most becoming expression? What are the best hand motions? Is it expressive or is it blah? Do unto other's as you would want them to do to you.
Photo by Mark
What an encouragement it is to see "brethren dwelling together in unity"! It's so evident how this picture exalts Christ-like character. It makes those who look at it want to make the most of the time they have with their siblings. It's amazing the different kinds of emotions an attentive photographer will pick up wherever he goes. I can assure you that Mark did not set this one up.
Group shot by James
And what's a Family Conference without the group shot? Because the room wasn't extremely wide, I went ahead and took one individual shot of the entire group instead of stitching together a panorama of multiple, horizontal images. I made sure to shoot in full size RAW file format so that I could crop it down as needed and still have the pixel count to print as large as may be needed in the future.
So, there are a few tips for those of you who didn't make it to the workshop! Hope to see you in California!