Here are a few shots from my scouting excursion in southern Virginia. I didn't have the privilege of hitting any of these locations during the golden hours, but that's ok if you have a good compass so you will know where the sun will be when you can come back later. I could still do my scouting. Not every place I went to was photogenic, but as you can see in the pictures below, I found some pretty awesome spots that will be great for bringing a group of trigger-happy photographers. If these are the kind of shots I could get during the middle of the day, I can't wait to see what can be captured at the more colorful times of day. Looking forward to CAPTURE Virginia more than ever! Click here to register.
Old structures are all over the place on Our Father's Farm, one of the locations we plan on visiting. I liked the dew-weighted grass leaning in toward the direction of the house. The fact that it's leaning toward the house didn't happen by itself; I was soaking wet from criss-crossing through that field looking for the best angle.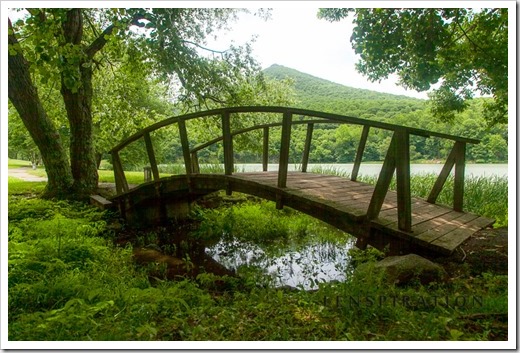 I had seen pictures of this little bridge as I was doing my Internet research in the Peaks of Otter region. It took a bit walking around to find it, but now I know exactly where to point folks when we arrive in the dark, early in the morning . . .
It's quite difficult to capture the effect of flowing water when the water that's flowing is in full sunlight. I had to use a 3-stop ND filter to get a long enough shutter speed.
No Lightroom "Clarity" effect here. When there's a lot of moisture in the air and you're exposed for the shadow areas of an image, you can really get a pleasant glowing effect.
Though it's not a spectacular image, I chose it because there were enough elements in the scene to provide interest and inspire emotions of tranquility. Not too bad for the middle of the day, I'd say.