You know the number one challenge of taking pictures in August in Alaska? Clouds. It's the beginning of the rainy season here, so rain and clouds are very common and can quickly become a huge problem. But they can also be an amazing benefit! Without them, the sky is pretty bland and colorless. But with them, they can diminish or completely block out the intense golden light of the golden hours. So we are taking our chances shooting up here in August . . . and praying a lot for moderate weather, the kind of weather where clouds are a benefit instead of a hindrance. And thank you for praying! God has given us very good weather so far. Some cloudy days, but more sun then not.
First day of the workshop and first photoshoot out at Reflections Lake.
The next morning we were out at Jim Lake for a morning reflection of Pioneer Peak. Because of the heavy cloud cover, the only thing we actually ended up taking pictures of was a moose that meandered our way. What an experience!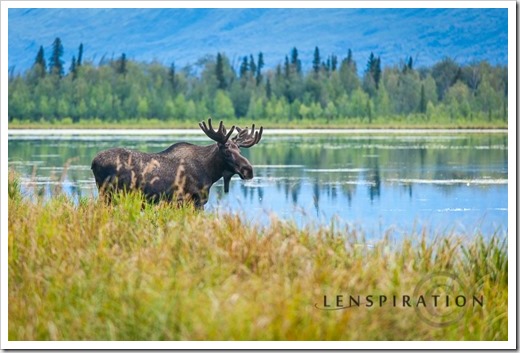 That afternoon we hiked 4 miles up the South Fork Eagle River valley with all our camera gear and everything we needed to camp the night.
Several from the host family hiked out with us. They enjoy hiking, have a ton of experience, and graciously took care of the meals so we photographers could focus on shooting.
Camping allowed us to stay out in the wilderness for the golden hours and sunset, which was very late, around 9:45pm.
We hiked out of the valley the next morning under the warm sunlight. Our campsite was on the ridge just at the base of the mountain on the right. It doesn't seem that far, but it was at least a mile away.
Praise the Lord for such great weather!