If so, you'll be excited to know that the 2017 Lenspiration Calendar is now available! For this one, I chose hymns that feature the theme, Come, Praise the Lord with Me, based on John W. Peterson's 1987 hymn so masterfully arranged by The Wilds.
Do you notice any major changes other than the typical updates to the hymns/holidays/dates/photos?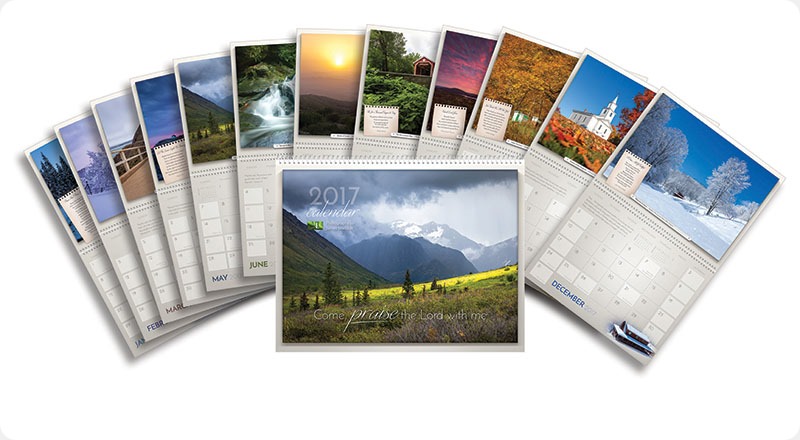 You guessed it! It's now a spiral bound calendar. Big upgrade here. A change I've been wanting to make for a long time. And it's finally here!
But that's not all. Here's a complete list of what has been upgraded:
New: spiral binding for a more professional appearance and smooth folding
New: matte paper on the bottom half of each spread for easier writing
New: 100lb cover stock paper throughout for unmatched durability
New: increased size to 9×12 for a bigger impression and more room to write
I'm really excited about this calendar! And while new things are wonderful, you're probably asking what the price tag is. . . . Well, I decided not to upgrade that. Thankfully, the one thing that hasn't changed about this calendar is the price. The price will stay exactly the same as it was last year as long as you order before Christmas. After that, the price will increase. So you should have plenty of time to order early!
Click here to buy small quantities on the Staddon Family Store ($10/calendar)
Click here to buy quantities of 10 or more on the Lenspiration Store ($5-$7/calendar)
Click here to add your own content for a Personalized version of the calendar
And oh, if you aren't a Lenspiration calendar fan . . . I suppose every fan wasn't a fan at one time or another. Let me know if you have any questions about the calendar by leaving a comment!