Here's some real-world composition for ya!
I wasn't planning on creating this video, but because finding, composing and tweaking this shot turned out to be so "textbook perfect", I couldn't help but step back and quickly explain how it came together.
Behind the Scenes Insights
•  I didn't go out that morning to take pictures of gravestones. I was out to observe. The Meteoblue app showed it was going to be practically completely cloudy that morning and I was just curious to see what the sky looked like when the app showed these conditions:
•  I was also deathly curious to know if sunlight might actually poke through the clouds while it was right on the horizon, even if it was just for a few seconds. I figured since clouds around here usually move from west to east, and because it was going to be relatively clear before sunrise, I thought perhaps that there was enough probability in the margin of error that there could actually be some colorful clouds.
•  I was thus pleasantly exhilarated when there appeared a small, localized slash of color on the distant horizon right at sunrise. I couldn't get in a good position to shoot it, but I thought it was pretty amazing that my prediction was actually not unfounded.
•  Now, of course, I could have done all this prediction and experimenting stuff at home. But my decision to go to a new location came through the consideration of my 2018 goals. One of those goals is "to take beautiful pictures" and I hadn't tried to take a beautiful picture all week! So, when Saturday rolled around, even though a pretty sunrise or sunset was not in the forecast, I knew it would be worth running out for a quick "sunrise" shoot that was actually an "observe blue hour" shoot (and that actually turned into a "shoot a gravestone" shoot).
•  I had never been to this little old church, so without a good sunrise forecasted, it was a good time to scout it out.
•  To never trespass is a good adventure-photography rule to abide by. You just don't know when you might accidentally miss seeing signs like this!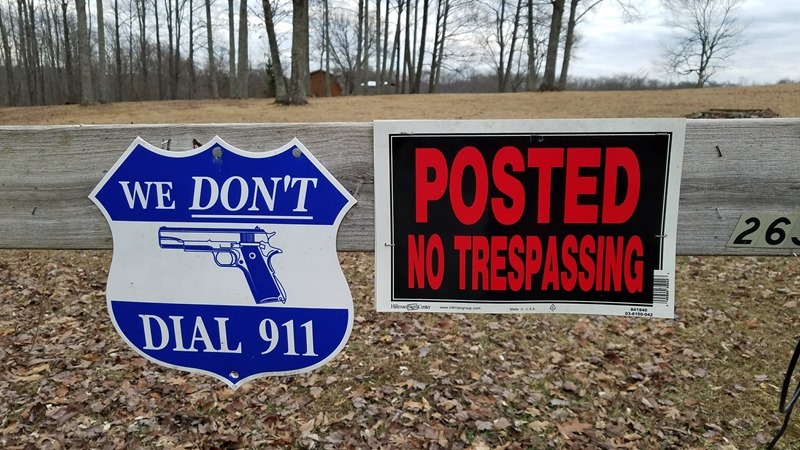 •  And one final observation, I think it's hilarious that though I went for blue hour, I spent all my time observing that I never actually took any pictures till after blue hour.
Such is the way of landscape photography. You can never expect what you'll come away with.
If you happen to make a good sunrise or sunset prediction this weekend, you might be happy to know that this week's photo assignment is "Pink Clouds"! You can submit your photos at www.lenspiration.com/pink-clouds-ends-february-24