I had an idea of what I wanted to take pictures of for this month's assignment, but I had to patiently wait for the right timing. It's interesting how things worked out perfectly! Almost.
Now let me show you the photos I took in the video! Keep in mind that these are my favorite select few from well over 400 photos taken on those two mornings.
The blue birds were very active that first day, but the only places they would perch close to the camera were on the telephone wires or on the bird feeder.
So, like I said in the video, I tried to photograph them in mid air going between the wires and feeder. If you've never tried it before, let me tell you, it's practically impossible.
So that's when I went over to the little tree. There seemed to be activity over there in a more natural environment. And that was where I got this great photo of a titmouse. But no blue birds decided to come by while I was there. And even if they did, there was no way that the photo would be telling a story of "survival" anyway.
Arriving much earlier the next day worked wonders! Now I actually had some elements to work with that would help me start telling the kind of story I was going for.
The dynamic light of early morning helped as well, even in the following situation where the frost wasn't discernible. It was so amazing how the backlighting made the breath of this titmouse visible as it chirped happily in the warm sunlight! It could obviously be a much better picture if the breath was more noticeable and the bird had stuck his head in the right direction more often, but neither of these were elements I could control, so I just did the best I could!
Sitting quietly for an extended amount of time allowed me to see more wildlife than just birds. Though they were too far away for a quality photo of them, how could I not swing the camera in the direction of these white tail deer while I was already there and set up?
Finally, the first bird landed on the "natural" perch. Of course I took tons of pictures of it, but I wasn't happy about the fact that it was always facing the wrong direction for light to be glinting in its eye.
Then I saw my first blue bird of the morning! Sadly, it kept its distance, the bird box being as close as it ever came.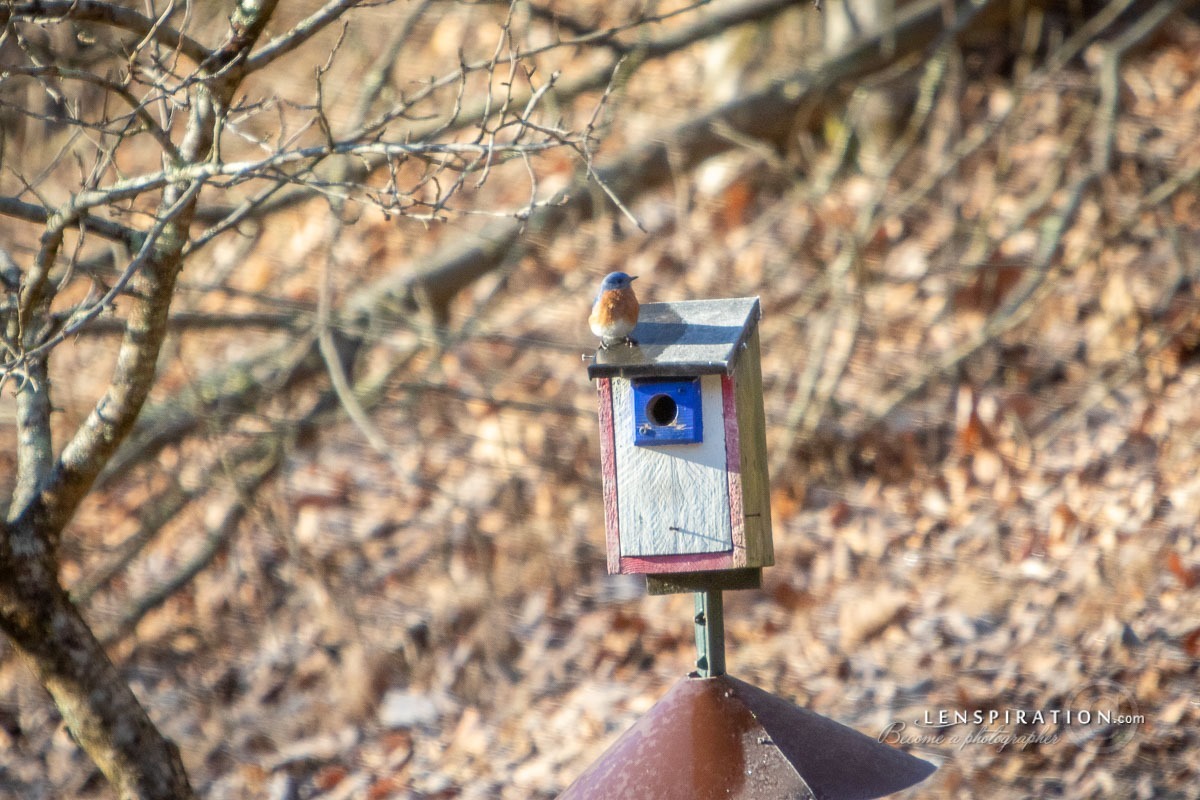 That didn't keep me from shooting the other birds that came closer, though. With elements that made it obvious that the titmouse was feeding, I  felt like I was getting closer to telling a story of survival that I was going for.
Finally, though these last two photos are not of blue birds, I do feel the postures give the idea of "searching for something" and the frosted field in shadow behind them, combined with the slightest remnants of frost still visible on the log, gives the impression of surviving in a cold climate. Maybe not epic, but at least good enough!
Though I got some photos of blue birds on that first day, they were not what I was looking for ultimately. I wanted to take a picture of more than just blue birds. I wanted to tell a story of survival. Blue birds may have helped tell that story better, but they were not my main subject. Survival was.
Now It's Your Turn!
If you want to try your hand at bird photography, feel free to check out the latest membership-exclusive section on Making a Natural Setting for Bird Photography. It even gives an idea for how to take bird photos with a phone camera!
Now, you don't have to take pictures of birds to tell a story of Survival! Be creative. Come up with what you can with what you've got. Can't wait to see your photos!