Hey everyone, want to see some photos that are practically guaranteed to make you feel peaceful? What about some photos that are sure to make you cringe or go bouncing off the walls?!
I had so much fun conducting this survey this month! I asked a random assortment of folks to indicate whether or not they would describe each photo in a list of 38 as "Yes", it feels peaceful, or "No", it does not feel peaceful. There's a lot, I believe, that we can glean from analyzing the responses.
Rated At 100%
Of the 38 photos in the survey, only three received the highest rating possible: 100%, where every single one of the 40 random survey responders said that they would describe the photo as peaceful.
Here's one of them. Heart Lake, California, at twilight:
See where this photo was taken: www.lenspiration.com/map
Survey responders also described it as "majestic" and "serene".
And here's the second one with a rating of 100%. Another beautiful lake, this one in the Northwoods of Michigan:
The third photo, mentioned in an earlier blog post and, interestingly, is of another lake at sunset, also received a rating of 100% (after an invalid response that indicated both "Yes" and "No" was removed). Reflections Lake, Alaska: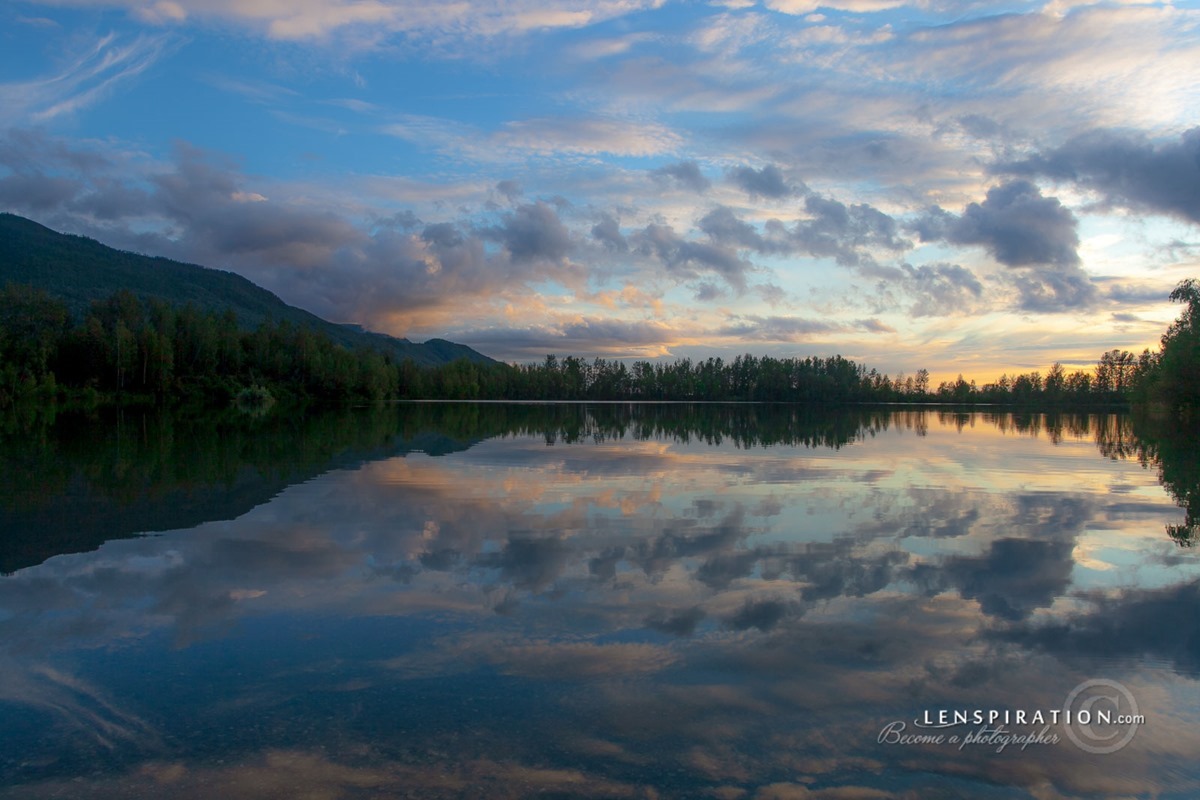 See where this photo was taken: www.lenspiration.com/map
Rated Almost 100%
Of the 38 photos, there were four that came very close to 100%.
This photo, sunrise over the Atlantic coast at Bethel Beach, Virginia, received a 97.5% score:
See where this photo was taken: www.lenspiration.com/map
For the following two photos, the rating was at 95%, described as peaceful by all but two people per photo:
See where this photo was taken: www.lenspiration.com/map
And then this photo, sunset over the Pacific coast in California, received a 94.9% score. And that's mainly because I'm the only one who responded "No" in the survey! One other responder checked neither "Yes" nor "No" but chose to describe it as "Majestic" instead. But I just think it's so interesting that I'm practically the only person who thought it looked too bright and energetic to be peaceful.
Split 50/50
Opinions were divided pretty evenly on five photos.
With a score of 56.4%, whether or not this photo felt peaceful didn't seem to be a black and white decision in the minds of the responders:
While I did not consider this photo of a boardwalk at Mason Neck State Park, Virginia, to elicit peaceful feelings, it was fairly neck and neck among responders, receiving a score of 55.6%:
Even closer was the following photo, at 51.4%. Other emotions that pushed out "peaceful" were "business", "lonely", "patience", and "rest":
The only truly 50/50 split was over this photo of two docked floatplanes taken near Homer, Alaska. 46.2% said "Yes", 46.2% said "No". Those two planes aren't at odds with each other are they?
See where this photo was taken: www.lenspiration.com/map
Another close split was this shot of Oneonta Gorge in Oregon. Though 46.2% of responders said they felt it could be described as peaceful, there were more people who would not describe it as peaceful-feeling:
See where this photo was taken: www.lenspiration.com/map
Take a look at the last 5 photos. If you were photogarphing them, and it was your intention to make them look more peaceful, what would  you do?
To read about what I would do, as a professional photographer, to intentionally elicit specific emotions of "peacefulness" in my photos, you can read the Premium Training, How to Create Photos That Have a Peaceful Feeling. There's a whole science to it! And it's probably not as hard as you think.
Rated Almost 0%
Now, for the photos that will most likely make you feel anything but peaceful!
A meager 8.1% described this photo, taken along the Franconia Ridge in New Hampshire, as peaceful, making it among the five least peaceful-feeling photos in the survey:
These next two got peace-less ratings of 5.1% and 5%, respectively:
And only one person said this 2.6%-rated photo looked peaceful to them:
Rated At 0%
And this was the only photo that received a score of 0%. And rightfully so. The content of a photo plays a major role in the emotions elicited by that photo. As one responder commented, "It feels quiet which is often associated with peace, but [instead, it] feels eerie."
When times are tough, would someone looking at your life describe you as 100% peaceful, regardless of what's going on around you? Great peace have they which love God's law, and nothing shall offend them. Psalm 119:16