It was quite the honor when someone on the music faculty of the New England Baptist College (a friend of mine named Matt) asked if I could conduct a photo shoot for a marketing project they were working on. Having not much experience in the area of commercial photography, I want to learn more about it so was eager to accept. But at the same time, I wasn't exactly sure how it would go.
Matt had very specific shots that he wanted. This meant that everything had to be staged.
Including the speaker shots. As the photographer, what are you supposed to say? There's the audience, just sitting there, after the real chapel service was over. Waiting. And then there's the speaker, just standing there. Waiting. And I'm like, "Ok Mr. so-and-so, give us an impromptu speech!" And I started shooting. And kept it going till I had some shots. It was soooo awkward, and yet, somehow, it was so much fun! Everyone was laughing. Everyone was engaged. We were a team working together, I knew what needed done, we were getting it done, and I was loving it!
And oh, the cafeteria shots! Talk about awkward! For the people eating, of course. But also for myself. Who ever takes pics of people eating?? But I knew it was what I needed to do. And everyone knew why I was there. So I could make whatever I wanted happen! And that was just so much fun! I was pulling away the kind of shots I would never otherwise be able to take if it wasn't an official assignment. Of course, pausing everyone in the middle of their meal, and arranging things on the table, and making sure they were hiding their napkins and wrappers and whatever in the laps, made it pretty fun.
Then we went out to take some concept images for the bus ministry! Less people, less awkward. But still that same, teamwork feeling that just made it so much fun!
Then came the specific classroom shots. Matt had printed out some example photos he wanted duplicated and brought an entire classroom of students in, along with the director of music to act as "professor". And the only reason they were there was for me to take pictures of them! When was the last time I had a classroom full of college students ready to pose for me? This was epic.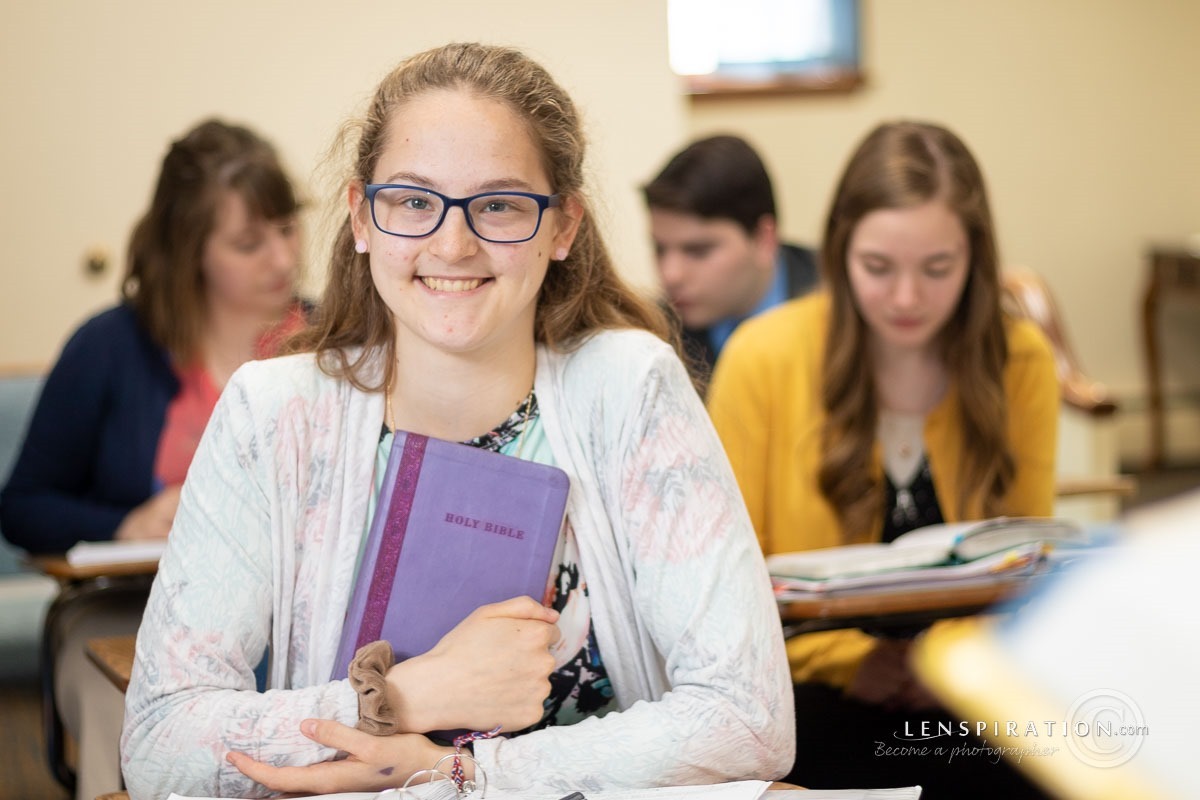 After that were a couple generic shots, just around campus to replicate some other example images that Matt wanted.
And then to top it all off, we got to set up and shoot a classic student photo in the library, with the lighting just perfect, the angle just perfect, the subject just perfect, the background just perfect, the props just perfect, etcetera, etcetera!
Yesterday's shoot was definitely on the list of my top favorite shoots ever. I felt like we were playing just a little part in the advancement of God's great kingdom together. And to be able to play the role of photographer on that team just makes all my years of learning (and the millions of pictures taken as practice!) totally, totally worth it.