I had been planning a backpacking trip with my friend Tim and brother David for months!
Now it was time to pack up my camera gear. What should I bring?
Photography was not the main purpose of our trip into Dolly Sods. But I was not about to go on a two night excursion in pristine West Virginia wilderness without a camera!
Of course, I wanted to go as light-weight as possible.
I chose not to bring my tripod. I wasn't planning to catch epic sunrises or sunsets.
I decided I would only bring one lens. A wide angle lens, of course, since landscape photography is my thing. 16mm is the widest angle lens that I have.
But then I had to decide which camera to go with. Do I bring my full-frame or crop sensor camera? (Here's a really great article that explains the difference.)
Full frame would give me the advantage of going ultra wide with my 16mm, like I'm used to doing. The downside to this was that my wide angle lens is a 16-35mm f/2.8, which is not exactly a great walk-around lens. I wanted to do more than just shoot ultra-wide stuff! I also wanted to be able to document our expedition. Plus, when I don't have a whole lot of time to spend on framing up shots just perfectly, there's a tendency to walk away with super busy photos when shooting ultra-wide.
A crop sensor camera would have the disadvantage of shooting at an effective focal length of around 25mm (with the 16mm lens), and I knew I would really miss the ultra-wide perspective. But then there was another advantage: I could use an EF-S lens that I have, which is a 17-55mm (f/2.8 as well). Though my effective focal length would now start around 27mm, I would have the ability to zoom in a bit more (an effective focal length of 88mm when zoomed in as far as possible) and would feel better about being able to capture more than just ultra-wide angle scenes.
So, I decided to take the risk and go with the crop sensor and see just how much I would miss the full frame advantages!
Saturday was our first day. Things were delayed for about 6 hours, so we ended up hiking to our first campsite after dark. Didn't pull the camera out.
Sunday, we had a very relaxed morning. In the afternoon, when we began our hike further into the wilderness, I pulled out the DSLR.
At first, I was feeling good about my decision. Photographing the beautiful surroundings (and our enjoyment of it) was exactly what a walk-around lens is for.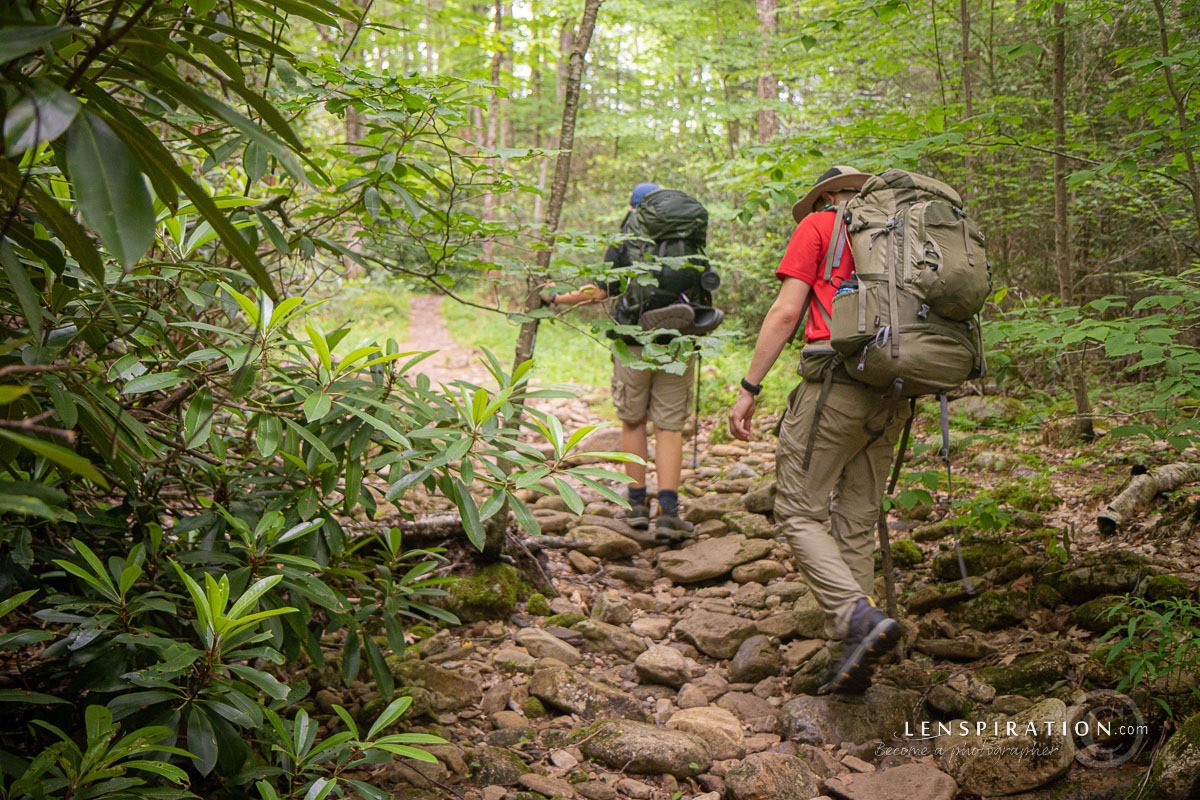 But after we got to our campsite, set up camp, and it was time to walk around to find some "calendar" photos, I began to be keenly aware of the lack of true ultra-wide perspective. 17mm on the crop sensor just didn't have a very wide-angle look.
I even found documenting my surroundings a bit difficult. I was having a difficult time finding ways to compose things artistically.
So, I changed my way of looking at things and started shooting textures in the water.
I started to see non-ultra-wide-angle compositions.
It was a great exercise!
In camp, I felt like I had to step further back than I normally would have. This meant I had to deal with more trees being in the frame. But it also meant less distortion.
Hiking back on Monday was when I really felt the most restricted.
A beautiful waterfall was close to the trail. Without a tripod, I had to use rocks and sticks to get nice flowing texture.
And almost every time I found a spot that gave me the best perspectives on the falls and eliminated the plethora of distractions in the foreground, the rocks I found to prop my camera on were too close to the falls to get the composition I felt was best.
There needs to be more room above the falls, but I was as wide angle as I could get!
Further down I was thankful to find a good perspective at something more than ultra-wide. This was at 28mm.
From that small falls (which I found out later was called Curtain Falls), we hiked down into the gorge to explore Diamond Falls on the main river. It was so beautiful! The composition I liked best, with the rhododendron leaves framing on the left, was just not wide enough to encompass the amount of whitewater at the base of the falls stretching to the far right of the photo. I feel like eye movement is just ever so slightly halted, giving the whole photo a little bit of a tight feeling.
I crawled along the only accessible edge of rock to push back as far as I could, but in my opinion, a wider angle lens would have produced better shots at that particular location.
Overall, I'm extremely happy with my choice! I'm really excited that I came away with some good photos. But now that I'm home looking at the photos, I'm making an interesting observation…
In total, I came away with 33 photos that I thought were worth keeping. Of those 33, only 1 was taken at 55mm. 17 were taken at 17mm. That really says something about the way I think. Every situation is different, but I think maybe next time I'll take the full-frame.