Looking back at the year 2022, it's incredible to think that the 12 Lenspiration Shoot to Serve photo assignments were photographed by 39 different photographers, submitting a grand total of 800 different photographs! Now that's a lot of work and creativity represented there!
And this comes even in a year with only 2 "easy" assignments. Of the 12 assignments we did this year (1 each month), 2 were nature related, 4 were of fairly specific objects (making them more "medium" in difficulty level), and 6 were specifically people-related assignments that I would consider as being "hard".
The first "hard" assignment came in March. Christian Family Reformation was looking for Family Moments Together, and it was fun to see the way each student made the assignment their own. We were all experimenting with a genre I now call "family photojournalism" and none of us really had much experience with it before. But the expressions and pose in this photo submitted by Samuel are so perfect, making it one of my top favorite student photos submitted this year!
Thanks also to Christian Family Reformation, you can enter here to win
a free 2023 Lenspiration Calendar by the end of today, December 30, 2022!
The next "hard" assignment wasn't until June. But it was the first of four "hard" assignments all back to back. June's assignment was for Creation Today. They needed photos of people sharing the gospel, and this photo that Jemima took captured the concept in such a great way. It is also one of my favorites:
July's assignment was Personal Quiet Time for our friends at Journey to the Heart. This photo that Caitlin took in Australia was not only a personal favorite, but it was also chosen as the winner!
The next in the string of "hard" assignments was Training the Next Generation which we photographed in August for In the Gap. I really liked this photo that Ruthann submitted:
Then, while I was out of the office busy getting married, Lydia ran another "hard" assignment in September, Photographer at a Computer, to use for various things at Lenspiration. I loved looking over the photos that were submitted when I got back, and it was the toughest thing to choose a winner! But after much deliberation, and being forced to only choose one, I ended up dubbing Naomi's incredible photo as the winner!
The last "hard" assignment of the year was also the last one of the year. Covenant Home School Resource Center was looking for photos of Homeschool Schoolwork and Allison's submission was one of my favorites:
Just because an assignment is not specifically people-related and thus thought to be more "medium" in difficulty level, doesn't mean it isn't hard. In January, we photographed Wisemen Silhouettes for Hope Pregnancy Center in Connecticut. We were literally trying to recreate a vector graphic using a camera and physical objects! Hannah's photo was chosen as the winner for that assignment: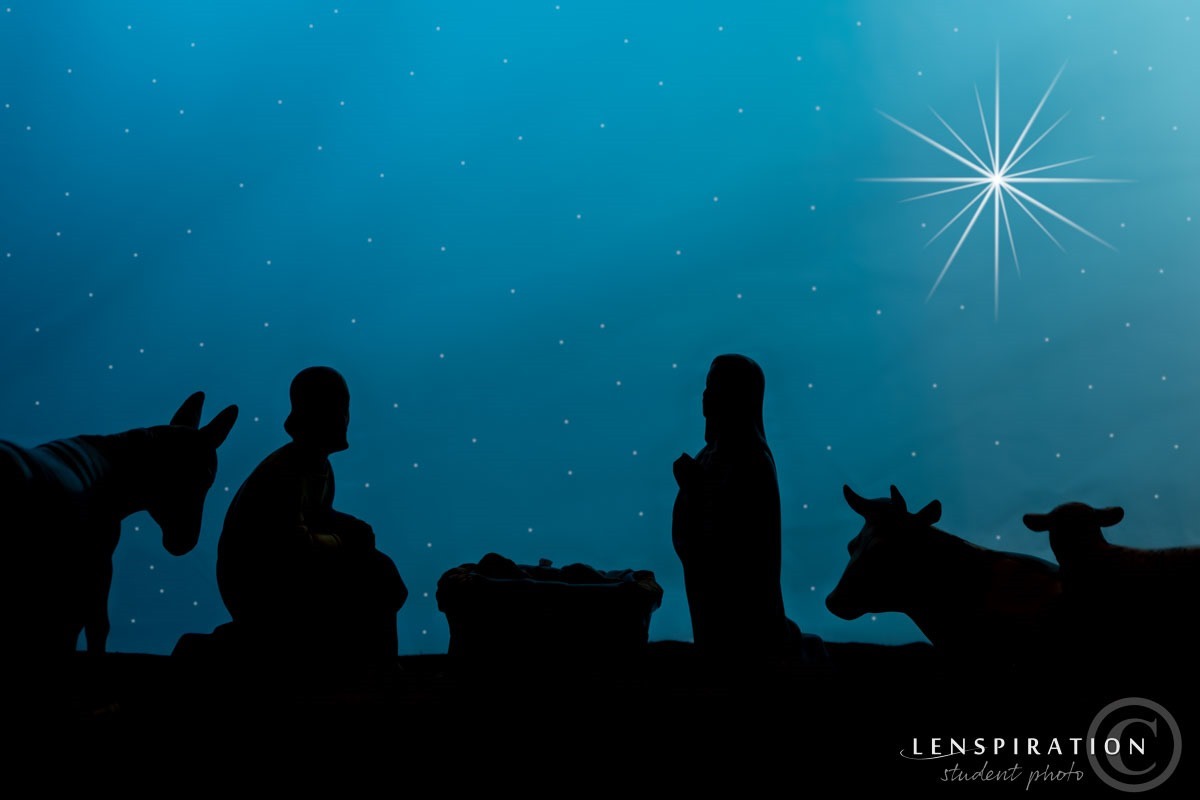 In April, the assignment was Photos of American Patriotism. Photographing a concept isn't exactly an easy "medium" assignment. Especially with the intimidation factor of shooting for Pennsylvania State Representative Andrew Lewis! But Jakes photo I thought was very well done:
In October, Shepherds Global Classroom asked us for photos of Communion Bread & Cup. A nice "medium" assignment in the still life genre. There were a lot of unique submissions, but this photo that Caroline took really stood out to me because of its authenticity:
The other "medium" assignment was when Ziesemer Family Publishers asked us for Scenes of Calvary photos in the month of November. The difficulty here was finding some crosses (or something Calvary-related) to photograph. But it was really neat to see the creative ways that each photographer embraced the assignment, and one of my favorites was this one that Sarah took:
And that leaves us with the two "easy" assignments. In February, Suzanne Shera of Lightlab Inc asked us for photos that represented the colors white, pink and black to accompany concepts in "The Jelly Bean Prayer". One of my favorite photos submitted for Colors of the Bible was this photo by Brenna. I love the cozy feeling this simple photo exudes!
The Intricacy of God's Creation was a fun "easy" assignment to shoot in May for the folks at Olivet Baptist Church and their texting ministry. 141 photos were submitted for this assignment alone.
And the variety in subjects was so much fun to observe! I think one of my favorites, though, was this photo taken by Ruth, taking an artistic perspective on a very common, easy-to-overlook subject.
And that is a sampling of my favorite student photos from the year! Good job everyone!
But I must not leave out my assistant Lydia. She continues to shoot every assignment, encouraging the students to shoot the "hard" assignments especially, providing beautiful extra photos for the publishers, and increasing more and more in her own photography skill along the way. This was a personal favorite that she took for December's "hard" assignment, Homeschool Schoolwork:
It's so much fun to look back and see the photos that have been submitted over the past year. To view a display of over 200 student photos that have been collected from past assignments, you can check it out here!
Happy New Year, everyone! Looking forward to learning more photography while shooting to serve in 2023!