What a fun assignment this is! Creation Today is looking for photos related to science or investigation. You can read all the details on the assignment page here, but here's how I ended up going about photographing it:
This assignment should be pretty simple to shoot. Start with finding someone who would be available for you to photograph. It could be a person of any age! They don't have to be a child like I photographed. In fact, it is probably preferable if it is a grownup.
Next, think of something science-related for them to do. Look through a telescope or a microscope, or engage them in whatever creative scientific things they might be interested in!
When you're photographing them, make sure to focus on the eyes. When I was shooting this assignment, I was amazed how easy it was to miss the focus. It's a pretty easy mistake to make. Just take an extra second to make sure eyes are tack sharp.
Before I even started taking photos, I had this idea in my head of a kid with a magnifying glass, facing the camera, laying in the grass, sun glowing behind him – light and airy, glowing, epic . . . you get the idea. I wanted a sort of adventurous feeling to the shot!
So when he ran up and knelt beside the ant hill, my first choice was to go right in front of him and look straight at him.
I had a problem, though. I was using my 50mm lens, which I had chosen for the background blur. But I had it on my 7D, which is a DSLR with a crop sensor. And because it's a crop sensor, the effective zoom created a frame that was tighter than I wanted. If I backed away for a less tight crop, I felt like I would be far enough away from the kids that I would have to shout in order for them to hear me. And of course I didn't want to be shouting at them!
So I probably should have gone to change my lens. But I didn't feel like it. So I started taking photos anyway. Looking at this first one afterwards, the reason I don't think I really like it is because the magnifying glass is too low to the ground and I can't see what he's looking at.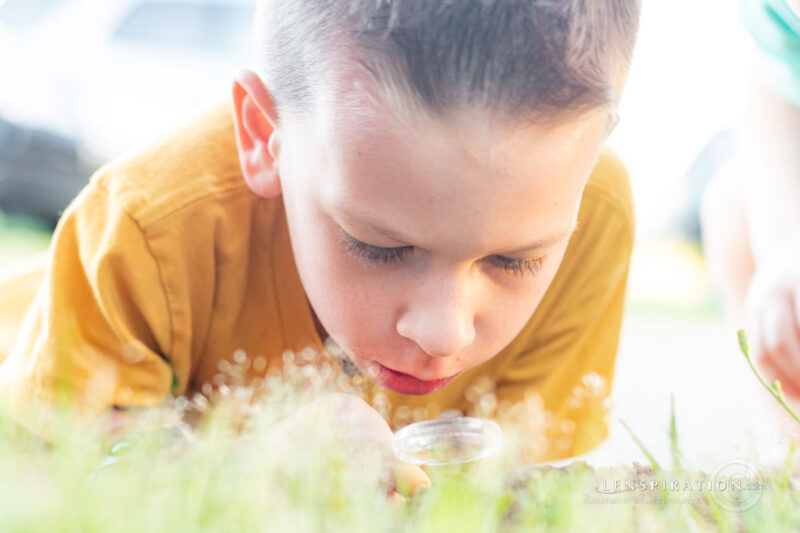 I repositioned, but the next angle was still too close.
So I tried a 3rd angle. There… that worked!
But notice where the focus is. It's incorrectly focused, on the far eyelash instead of the eye in front.
4th time's the charm! 🙂
It's in focus, but the expression is kinda silly. But such is the fun of working with kids. 🙂
Going for another angle, the following photo was my next one. But again, the focus was off.
So I took another one.
Isn't it amazing how important focus is!
Feeling this angle was too tight, I repositioned and finally got exactly what I was envisioning!
Again, the focus was off on my first photo of this set. The autofocus was really struggling with the bright light in the background.
See what I mean? Remember to focus on the eyes!
This next photo my model initiated. He was just being a kid! And it's a fun photo. But I thought if I could see his eye through the magnifying glass, it would look better!
Between the magnifying glass photos and the microscope photos, I took a few photos with binoculars. Close enough to science investigation, right? 🙂
And for these final photos, I set up the shot but there was no need to pose him! He was just looking through the microscope and doing his thing and I just shot whatever he happened to do. 🙂
Don't you just love the light on the quartz rock?! It was from his own little rock collection. 🙂
Now it's Your Turn!
Go and find someone who you can take pictures with for this assignment! Grab some science-related props and have fun with it! Include a Bible for a more clear Creation Science touch. Take it indoors or outdoors. Read the details to get a better sense of what Creation Today is looking for, take it and run with it, and make this assignment your own! Can't wait to see your photos.