March 18, 2015 at 10:48 am
#10030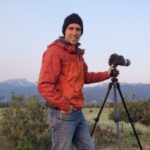 James Staddon
Keymaster
@DanCope, these are some of the most beautiful winter pictures I have ever seen where I actually know the photographer who took them! I wish with all my heart I could have been there with you, but the snow was so deep that it was impossible to get out of my own hollow. 🙂 But I was still taking pictures at that exact time and you are right, the sky was breathtakingly blue! I wonder if that is sort of what heaven will be like!
I like Bridge-4s.jpg when it comes to composition. I REALLY like seeing the base of the tree. That is key. I also like how you can see diminishing perspective in the trees: there's the big one on the right, there are the mid-ground ones on the left, and then the background ones very small and filling in the middle. Its very subtle, but one reason why this shot has a sense of depth. It'a also interesting that the Weight Limit sign grew between the two shots. 🙂
As for the last shot, Marshville-Bridge.jpg, I am glad that you took the time to keep the bridge from appearing distorted. I can only imagine shooting at 12mm! I did like the wider, not-square crop in the first shot though. Also, I think it would be worth taking some time to remove the sun flare spots surrounding the sun to the top-left, right, and bottom-right. You may also notice some "smudging?" or at least a low contrast, oblong spot on the bottom left side of the picture. I don't know if that is glare or a drop of water on your lens, but with LR, you should be able to add some contrast back in locally using the brush too.
So happy you were able to get out to get these shots! I almost feel like I was there now. I just wonder how many people rushed off to work (or stayed inside and slept) that morning and missed the incredible beauty of that morning . . . And just imagine all the scenes God saw that we couldn't have ever had time to find or see ourselves!