March 19, 2015 at 8:29 am
#10062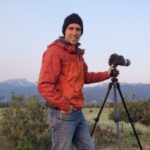 James Staddon
Keymaster
Interesting insight, @timtam. Makes sense.
Most enlightening, @Nasa. There are certainly a lot of factors to consider I was not aware of. Thank you so much for the comprehensible explanations.
It really does has everything to do with perspective. Working mostly with beginner photographers, I tend to forget about all these details.
Another thing I've been wondering about is which is better, CCD and CMOS, if anyone cares to reply. Is it true that CMOS is most common today in "affordable" cameras for the simple fact that it's cheaper to produce? I was always under the impression that CMOS was "better" technology. But the comment thread on http://snapsort.com/learn/sensor/type got me thinking that this may just be a preconceived perception due to the fact that CMOS is "newer".