May 13, 2015 at 11:10 am
#10880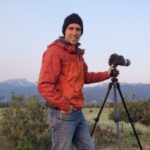 James Staddon
Keymaster
Incredible! That's not a sight I see by the side of the road! I'm glad you took the time to stop and capture it.
I'm assuming you were zoomed in as far as you could. How much did you crop it in post? It is indeed soft, but it doesn't seem to me that the softness came from camera shake. It looks more like it's more from the wide aperture and amount of cropping.
The composition is masterful. I'm glad you didn't center it. The branches all leaning to the right toward the open space is great.