May 14, 2015 at 7:53 am
#10888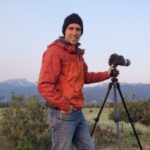 James Staddon
Keymaster
That's great! The less you have to crop it the better.
And I agree that the picture of the owl looking at you is better by far.
From the original you posted, it looks like the softness I'm seeing in your edited images is mainly happening in post processing somewhere. Perhaps exporting? The original is really pretty good.
I took your original image, cropped it to taste (I liked leaving more breathing room around the owl), increased the saturation a bit, added a vignette, and sharpened it. To me, the attached doesn't appear to have the same amount of "blur" as any of the edited images you posted.