May 22, 2015 at 12:40 pm
#11007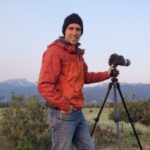 James Staddon
Keymaster
Ah, I see. It may be good to do the tests on a smaller subject, preferably a marked, flat surface angled away from the camera, for precision.
I guess this new information voids my previous observations. Here's a revised version:
70D 100mm the only portion of the rock that is in focus is the bottom right section. (I assume this is not where you were intending it to focus.)
70D 105mm softer focus, and again, it appears that only the bottom right portion of the rock is in focus.
Rebel T3 100mm appears to be in focus, in the center of the rock.
Rebel T3 105mm softer focus, but appears to be in correct focus, in the center of the rock.