June 2, 2015 at 8:57 am
#11294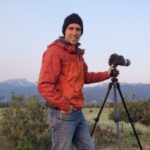 James Staddon
Keymaster
Oh wow, that is beautiful and sharp. What lens did you use?
It is nice that there is contrast between the plant and the background in the upper portions of the image, but one thing I noticed was that the bottom portions of the plant and stem seem to fade into the background. There is very little contrast down there between the plant and the background. Now, I can see this as a positive thing because it creates depth and a link between the foreground and background. However, I wonder if it would be a more dynamic image if there was greater contrast between the plant and background.
As for the white balance, most of the samples I took of the background do register as a very warm, yellow-green (the attachment is about average). However, I would prefer to see this image warm than cool. The purple adds a good, balancing color contrast.