September 19, 2019 at 1:47 pm
#44199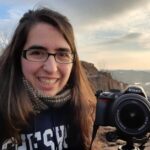 Lydia Bennett
Participant
That makes a lot of sense. So I don't think there's necessarily anything I could've done differently in this situation other than wait for the fog to lift a little more and show more layers (if only there had been time!). And there's not really anything else I can do at this point, since the crop looks better but like you said, the quality just isn't there.
I think this can officially be chalked up to an "Oh well, almost but not quite!" situation, and I'll look forward to another time God gives me a similar scene to photograph – but better! 🙂
This multiple overlap may be why this photo was noticed and picked up by Jeff Schultz Photography.
That's really neat! Yeah, that's definitely more the look and feel I was hoping for with my shot.