October 6, 2019 at 7:21 pm
#44920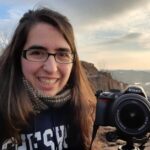 Lydia Bennett
Participant
Hey there, @blessingscaptured! I second much of what @ernestf-lloyd said!
Photo 1 – Like Ernest said, it's a little difficult to figure out just what is the subject in this photo. Maybe even if you cropped in off the right and the bottom to bring more attention to the trees that are standing completely straight and tall, something like what I've attached, that might help. Then the story becomes more about this forest of tall trees, and you kind of notice the patterns of other trees in the background too, leading you to the two trees in the front.
Photo 2 – Great composition! Nice leading lines, and great ominous clouds overhead! You've got good overlap happening in this photo too in the textures, color tones, and brightness. I think the only thing I'd do more is brighten it up a bit.
Photo 3 – I can't believe how still and blue this water is! Somehow the composition feels a little off… I like the reflection, but it just doesn't feel compelling. Also, the top of the photo just seems cut off. I think perhaps a little wider angle would've helped, unless there was something you were trying NOT to include! 🙂 It just feels like there's more to this scene that I'm missing out on.
Photo 4 – So well composed!! I don't think there's a thing I would change with this one, except perhaps a little in editing. I think the highlights could be pulled back a little, and maybe a little more contrast (?).
Photo 5 – I don't like this one as well as the previous: the mill is not as intentionally placed, and although the reflection is very interesting to look at, the picture as a whole is not as beautiful as the horizontal.
For editing, I typically make adjustments in varying degrees in most of the basic sliders in Lightroom (white balance, exposure, highlights, shadows, vibrancy, saturation, contrast, clarity, sharpening, etc.)
Looks like you had a lovely vacation with your family!