December 19, 2019 at 10:26 am
#47354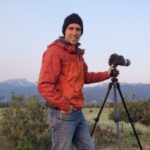 James Staddon
Keymaster
I suppose everyone's pretty busy with their own secret Christmas plans! 🙂
I did a proposal this past summer that was a huge challenge. It was at dusk (almost dark) and happening on the porch of an old cabin lit only by candle/lantern light and Christmas lights! The only place to "hide" was behind a trailer quite a ways away so really the only lens I could use was my 70-200mm f/2.8, and even then I was relying on IS for sharpness, ISOs around 3200, and brightening in post processing.
So, I don't know what the lighting will be like in your situation. Obviously, if your presence is not to be observed initially then you won't want to use bounce flash, and will thus need to rely on as wide an aperture lens as possible. The 50mm f/1.8 comes to mind. Before the couple arrives, I would find out what the best exposure is for the general area that they will be and then keep the camera in Manual, shooting with that one exposure. You shouldn't have to adjust it during the actual shoot, but of course if the photos are turning out too dark or light for some reason, I'm always tweaking when I'm shooting in Manual. If it's super low light, make sure to keep the shutterspeed above 1/50sec, and more like 1/100sec or faster if possible (to capture candid movement). It's ok if your ISO goes pretty high, but it shouldn't be any higher than necessary to make a well exposed image. It's better to try to fix grain in processing than to have a blurry photo.
I'd approach it as artistically as possible. Include some branches of the Christmas tree blurred out in some photos, and not in others. Focus on an ornament that relates to their story with them blurred out in the background. Or focused on a Christmas light, really close up.
Let them direct how things go and let them take their time. They'll be oblivious of time so it'll probably feel like forever before their ready for it to be over.
Once the candid moments are over, they'll want you to take some posed images probably. Not "posed" necessarily, but "official", where they're looking at you. They're probably the ones that will get printed, so it's fine to use flash then, and then keep those artistic too, with how you position them or what you say to make then laugh naturally, or what you include in the background/foreground/ect.
Of course, try to think through all those details beforehand too. Talk to the guy beforehand and both parents to make sure you know what they want. Do what they want and then add a few off-the-cuff of your own ideas….and they'll be likely to ask you to do it again for some other occasion. That is, if the photos turn out, which I'm sure they will if you do the best you can and don't give up. 🙂
Anyhow, that's what I can tell you from my limited experience!