December 20, 2019 at 2:22 pm
#47425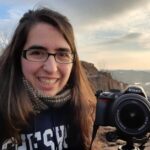 Lydia B
Participant
How fun!
You know, I looked at the pictures before I read what you had written, and I thought to myself, these look like they were shot through a window. And then I read the text, and saw they had been! 🙂
It really would have been nice to try to open the window if possible, or just get outside, as the window adds a hazy look to the images. I had a similar experience recently looking out at our birdfeeders. The attached images are examples of the difference in clarity between a closed window (first photo) and an open one (second photo). It did kinda make our livingroom a little chilly for a few moments, though! 🙂
Beyond that, I like your second photo better than the first. There are a lot less distractions going on in it. The first one has lots of harsh shadows, and a variety of textures, shapes and all that are distracting factors.
I love the little detail in the second photo too, you can really see the snow on the squirrel's face, and even some falling to the ground! That's pretty neat!