January 21, 2020 at 2:59 pm
#48258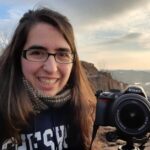 Lydia Bennett
Participant
Fantastic topic, Logan! It's great to have these types of discussions and encourage one another in the Lord!
I once heard a preacher ask this very question in context of 1 Corinthians 10:31. What does it mean to bring glory to God (even in mundane things like eating and drinking)? The preacher was saying that it means that in whatever I do, I give others the right opinion about Who I belong to. To do all in such a way that others have the right opinion of our God. "Let your light so shine before men, that they may see your good works, and glorify your Father which is in heaven" (Matthew 5:16).
That really stuck with me, and so it immediately came to mind when I saw this topic.
So, what does that look like practically for me as a photographer?
There are three areas I've thought of as I was considering this:
The purpose of my photography – should not be self-glorification but God-glorification. (John 3:30)
Do I try to take an amazing photo so that people will think I'm an amazing photographer, or so they'll see that God is an amazing Creator?
Do I take pictures for my own elevation and fulfillment, or do I shoot to serve?
Do I seek to become popular and gain a following on Social Media, or do I invite others to "magnify the Lord with me, and let us exalt His name together" (Psalm 34:3)?
The content of my photography – should not fulfil the lusts of the flesh, but demonstrate a life surrendered to the Spirit (Romans 13:14, Galatians 5:16-17, Romans 8:12-13).
A word that gets mentioned a lot here on Lenspiration is "intentional". I think that when we are intentional in the content of our photography that is one way we can give others the right opinion of Who we serve.
For example, 1 Corinthians 14:40 exhorts, "Let all things be done decently and in order." This is one reason I would tend to stay away from abstract art, and also why I try to learn more about tools of composition and how to train my eye to intentionally set up shots.
Of course portrait photography is an obvious area where content is a hot-button issue. But in general, modest clothing draws attention to the face, and immodest clothing draws attention away from the face. So, where is attention drawn when the photo is viewed? Does the pose or the way the person is dressed "make provision for the flesh" (Rom. 13:14) and potentially lead others into sin (Philippians 1:10, 1 Cor 10:23-33) or is attention drawn to the subject's countenance?
I found it very interesting to read @dfrazer's comments that this is something that can come up even in a "neutral" area like real-estate photography, and again, that gets back to the idea of being intentional in the way we set up our shots. It was encouraging to hear the way he navigates that area.
My attitude in my photography – should focus on others rather than myself (Philippians 2:5-7)
When I'm out doing a shoot, what is my attitude? What kind of testimony do I have to those that I'm interacting with?
Am I so nervous and shy that I demonstrate that I'm thinking more about myself and my comfort zone than about others?
Am I overly confident or prideful and don't want others to give me suggestions or advice?
Do I demonstrate a concern for the needs of others and follow Christ's example of love (John 15:9), or do I get so focused on taking photos that I forget those around me?
And certainly, if I'm going about to do my best to give glory to God and give others the right opinion of Who I serve, that means I need to continue to get to know Him better myself by spending quality time in His Word and in prayer. It's important that I'm abiding in Him and letting Him bear His fruit through me (John 15:4-5)!
Well, I'm sure there's a lot more that could be said; this topic has not even begun to be exhausted….but I'll stop here for now since I'm not out to write a book! 🙂 Plus, I'm looking forward to seeing what others say as well!
"But ye are a chosen generation, a royal priesthood, an holy nation, a peculiar people; that ye should shew forth the praises of him who hath called you out of darkness into his marvellous light: Which in time past were not a people, but are now the people of God: which had not obtained mercy, but now have obtained mercy. Dearly beloved, I beseech you as strangers and pilgrims, abstain from fleshly lusts, which war against the soul; Having your conversation honest among the Gentiles: that, whereas they speak against you as evildoers, they may by your good works, which they shall behold, glorify God in the day of visitation." (1Peter 2:9-12)