February 10, 2020 at 1:27 pm
#48668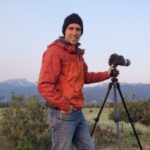 James Staddon
Keymaster
Such a great question, @loganlamar! I've thought a lot about it, and I'm still trying to figure it out! Here are a couple thoughts from my perspective.
God is glorified when His will is done. I have my own ideas of how to glorify Him, but the fact of the matter is, because He's the One that knows best how He can be glorified, then when I have the desire to glorify Him (which I desire to be always), I find myself turning my attention on understanding and doing His will for the situation I happen to be in at the moment.
This manifests itself in a couple different ways. For instance….
How I take pictures. In the genre I enjoy most, landscape, I find myself in many situations that challenge my desire to do His will. Impatience, frustration, not thinking of other's time, discontentment, glory in self achievement….these are all temptations that are obviously not doing what God would want me to do in the moment. So, if God can lead me in victory in these small decisions, then regardless of whether or not anyone is watching, God is glorified in me. If there are others watching, then there is the opportunity for God to be glorified in them too, as they see the "good works" and (perhaps without even knowing it) they agree with God that those right actions taken were indeed "good".
What I take pictures of. Again, having my goal to do God's will out of a desire to love Him with all of my heart navigates me through this as well. Knowing what is or is not acceptable to be seen, as @dfrazer mentioned, is completely relative if you do not have some sort of a guideline to go by. Like the Bible. That's why culture doesn't have any problem with things now that it used to have a problem with in the past. The role of the Bible as its guide is less now than it was before. And the same thing is true in Christian culture. The interpretation of Scripture has changed. (Why this is true is another topic.) But the fact is, every single person is going to have a different interpretation of what the Bible has to say about modesty, and so it's a good topic to discuss, especially within our own families, and we each need to know for ourselves exactly what God's will is in this matter. But having my focus on doing God's will is what guides me in making decisions in what I will or will not take pictures of, and this ultimately is what glorifies Him. I do a lot of wedding photography, so this is very much a matter I talk to God about a lot.
What I intend to express with my photos. Even through inanimate objects, I can express the lusts of my flesh (how deceitfully wicked my heart is!), so I seek always to be sensitive to the promptings of His Holy Spirit so that the consequences of "deception" and "confusion" can be avoided.
How I share my photos. @bennett-family touched on this really well. The closer we draw near to God, the more the light of Christ will reveal the impurities in our inner motives.
So, really, photography is just like any other activity. You can do the exact same outward action, and in one situation it glorifies God, and in another situation, if you're heart isn't right, then it doesn't glorify God. Jesus said, "I can of mine own self do nothing…I seek not mine own will, but the will of the Father which hath sent Me" (John 5:30).
To me, in order to glorify God as a photographer, I must live a life of complete surrender. Oh how I desire in all things to "approve things that are excellent" (Philippians 1:10).
In addition to this, of course, I do everything I can to outwardly proclaim the name of Jesus Christ too, whether it's witnessing or handing out tracts while I'm out taking pictures, adding Scripture to my photos, recommending Christ-affiliated photography-related resources (like Lightstock) . . . or helping a missionary who needs photos! Hint, hint https://www.lenspiration.com/forums/topic/details-pure/ 🙂
This reply was modified 52 years, 1 month ago by .