February 22, 2020 at 3:59 pm
#48903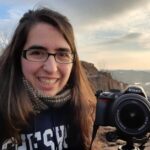 Lydia Bennett
Participant
Hi @brose16!
This was taken in the late afternoon/early evening.
I'm still trying to figure out the best lighting options, so any tips would be appreciated!
If you're trying to figure out best lighting options, you certainly have chosen the right time of day for it! 😉 Golden hour and sunset offer deliciously gorgeous lighting that can transform so-so scenes into works of wonder!
What is it, a bit more specifically though, that you're working on figuring out as far as lighting goes? That's a pretty vast topic in and of itself! 🙂
And, just a couple notes on your photo, while I'm at it….
First off, that is one lovely country scene! The road pulls you right into the photo, and the mountain in the distance just makes me want to head right down there and explore!
I feel like there's quite a bit of blank space. It's not like there's a whole lot to look at in the sky, yet it takes up almost 2/3rds of the photo. I think I would've included less sky (more like the cropped photo below demonstrates), unless there was some amazing sunset going on or something.
The telephone poles don't seem to add to the scene as it is right now. The closest one is so big, yet it doesn't totally seem like it's intentionally incorporated into the scene, and then the others almost disappear into the landscape. So, I think I might have tried to either exclude them or try to incorporate them artistically, letting them be leading lines/repetition that pulls the viewer's eye into the photo. I don't know, maybe if you stepped into the road (if that's safe) for a different angle, or placed the telephone pole on a third, or something. I'm not sure how well that would work. 🙂
And like @ernestf-lloyd said, in editing, you could pull out the shadows and probably saturate it up a bit more.
Again, very lovely scene, Isabella!