March 23, 2020 at 3:43 pm
#49653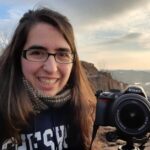 Lydia Bennett
Participant
I hadn't thought of trying silhouettes in front of the window! Were you thinking for silhouette pictures if it was dark outside, or light?
If it's light. 🙂 I was picturing if you exposed for the bright outdoors and it was (relatively) dark inside, then you'd end up with your subjects being underexposed/in silhouette.
That's unfortunate for them that it ended up being postponed, too!