March 25, 2020 at 10:43 am
#49670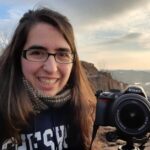 Lydia Bennett
Participant
I grabbed the DSLR as my family and I headed out the door early one morning to do some yard clean-up for a local ministry. It wasn't that I thought the yard-work was going to be something to photograph, but I didn't know if we might stop by some scenic spot on our way back home when we were done.
When we arrived, the sun was just beginning to peek over the horizon, giving a warm current to the fresh, summer air. We scattered all over the property and jumped into our assigned tasks. I was supposed to help my Mom and sister weed the over-grown garden beds.
As I knelt down and started pulling the strangling offenders out from among the flowers and bushes, I glanced to my right and my eyes lit on a solitary weed growing in the crack of a sidewalk. Its small yet shapely form rose valiantly over the hardened cement turf through which it grew.
I called to my sister, "Look over here! Isn't that the most adorable weed ever?!"
She surveyed the weed with scrutiny then looked back at me, a patient smile on her face. "It's…a weed. Just pull it out."
But I couldn't pull it out. It was just too cute!
I ran over to the truck and got my camera. My sister laughed as I laid on the ground and set up a shot. Even after getting up and going back to my garden bed, I couldn't quite bring myself to pluck the green sprig from the ground.
I was reminded that even the most ordinary and over-looked of plants still beckon us to marvel at the Creator's handiwork. Yes, even little weeds.