April 2, 2020 at 5:27 pm
#49981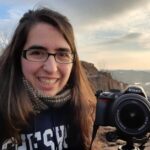 Lydia Bennett
Participant
@esther, gotcha! Ok, well a couple things to keep in mind.
1. Personally, I prefer not to crop my photos a ton since it does affect quality. So, I almost never crop a horizontal photo vertically, or a vertical photo horizontally. It's just a little bit too big of a crop for me. Now, I believe your camera takes larger pictures than mine in the first place (which gives you greater flexibility), but still it's something to consider.
2. On the webinar the other night, Kevin mentioned that if you send them an uncropped photo, it gives them more flexibility for use, so you might want to think about sending them an uncropped version anyways (or in addition to a cropped version).
3. If you still do want to crop it vertically, the shape that I'm noticing is the "V" shape in the section of the photo I've attached here. You might try editing out a bird or two as well to help pull out that shape. With that crop, I'm kind of envisioning it as a cover photo, so the blank space at the top potentially leaves room for the name of the magazine.
I do have to say, I think it's really neat how the sunshine is shining on some of the birds. It gives a warm contrast to the cool blue water. Looks like you were out there at a great time of day!