April 24, 2020 at 3:32 pm
#50302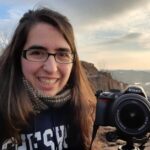 Lydia Bennett
Participant
It is the Neewer Carbon Fiber 66 inch tripod.
This is the same (or almost identical) tripod that I use. It has held up very well, although I'm not extremely rough on it for the most part anyways.
When raised to its full extended height, it doesn't feel altogether sturdy, but I almost never need it to be that high (it's much taller than I am at that height 🙂 ).
Personally, the only thing that I really count as "cons" are the twist locks for the legs; in the moment, I often get confused as to which way I need to turn them to loosen or tighten. I haven't had a tripod with lever leg locks, but it's something I'd certainly look into if I ever need to purchase a new one.
And I have sometimes felt that the ball head is difficult to make small adjustments on only when I'm using my heavier lens (55-200mm).
But overall, it has certainly met my needs! Hope that quick review is helpful! 🙂