May 19, 2020 at 12:42 pm
#50828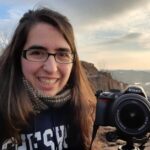 Lydia Bennett
Participant
Hey @loganlamar, that's a really neat camera! I like the artistic approach you took, and the darkness of the photo goes well with the "old, antique" feel to the image.
Compositionally, I'm not particularly keen on the fact that the camera is facing the edge of the frame; the leading lines seem to pull the eye to the edge of the photo and there's not really something to bring it back in.
In addition, the crop feels tight. It seems like it should either be zoomed in further to obviously focus in on the details on the front of the camera, or zoom out further and tell the story of the entire camera (the recent discussion on margin space comes to mind 🙂 ).
I like the stark contrast in the edit, though there's just a little too much space taken up with complete blackness in the photo for my liking.