May 26, 2020 at 12:39 pm
#50962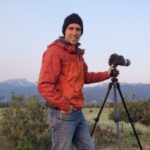 James Staddon
Keymaster
My Grandpa gave me a camera very similar to that! I've always wanted to do some study on it. I should pull it out and take some pictures of it one of these days. Where did you get yours?
The edit certainly helped draw attention to the front elements of the lens, which I think of as being your subject.
Maybe I'd like to see a little fill-light on the left so the accordion design is more noticeable? Maybe it would help "lighten up" the heavy dark area on the left?
I would agree with Lydia, it feels to me to be cropped too tightly on the right side.
Also, the camera is pointing downward ever so slightly, which gives the impression that the viewer is looking down on it (which is true), which is the normal perspective we have on most things like this, so it's not exactly a "unique" angle. I'd perhaps try getting more level with it, if not slightly looking up at it.
And I don't know what you can do to control the light, but perhaps in post-processing, the round, metal circular thing above the lens is reflecting light and pretty bright, so maybe toning that down so it's not as bright?
Those are my thoughts!