May 28, 2020 at 1:09 pm
#51018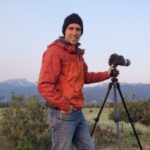 James Staddon
Keymaster
Assuming she wants to make copies for print…..
Size makes a difference. If it's smaller pieces of artwork, I think scanning is easier and yields better results from my experience, than photographing.
If the artwork is too large to fit on a scanner, then you could scan sections and stitch them together in Photoshop. This suddenly becomes time-consuming, and perhaps photographing would take less time. But then there's the time of setup, so then it depends on how often she'll be wanting to be making copies of her artwork.
I would suggest she be more concerned about the lighting than the camera. Even point and shoot camera's these days can create pretty good quality photos. However, I would recommend a mirrorless or DSLR camera. Really, for art copying, the cheapest one she can find will probably do the job well (as long as it's not more than, say, 10 years old).
She'll want a tripod though, and a way to make sure the camera is perfectly perpendicular to the artwork. Otherwise, the top/bottom, left/right of the artwork will be more/less out of focus.
She'll need a way to get even lighting, and at an angle where the light doesn't reflect in the artwork. It's amazing how each tiny reflection on each textured stroke of an oil painting will completely ruin the contrast/color of the copy. I would recommend a cheap lighting kit found on Amazon. Outdoor shade could also work, but that then is less ideal for setting up a process for running copies quickly or regularly.
The color of the light needs to be controlled and even too, making a lighting kit in a window-less room a better environment than outdoors where who knows where reflections are coming from. She'd need to set up custom white balance to, to replicate accurate colors.
The lens that is used is also important, to keep the artwork from appearing distorted. I would go with something around 50mm.