June 4, 2020 at 12:12 pm
#51161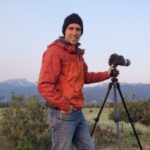 James Staddon
Keymaster
If you want to get into portrait photography, then the 50mm f/1.8 would be an excellent second lens to have!
You'll love using prime lenses too! They're so cheap, yet such great quality. With such a wide aperture, you'll love having more light to work with.
Another popular portrait lens is the 35mm f/1.8. I personally feel like I'm too close to the subject when I use that focal length for portraiture, so I prefer 50mm. A longer focal length, like 85mm, is also common for portraiture, but I feel with a prime lens it would mean stepping back too far to get wider shots.
That said, here's a bit of perspective. While the nifty fifty is an excellent lens, I hardly ever use it. I always find myself reaching for a f/2.8 zoom lens instead. Why? Because most of the "portraiture" I do is family photos or weddings, and in these situations I find myself stepping forward/backward a lot when I'm restricted to a prime lens. The 50mm is great when I'm shooting in a studio (or individuals, which I don't do much of), but I just prefer the ability to zoom in and out instead of stepping forward and backward when I'm doing weddings or family photos. Plus, why not have the ability to shoot 50mm, as well as 24mm, 70mm, and everything in between while still having a beautifully wide aperture? The obvious answer is, price. A 24-70mm f/2.8 is going to be 10 times more expensive than a nifty fifty! And of course, there are other factors like size, weight, and aperture (f/2.8 is 1 and 1/3 stop narrower than f/1.8, after all, though in all practicality it's close enough.) But I just wanted to share a bit of perspective from my experience so if you had all the money in the world to spend, you wouldn't overlook the benefits of a good, quality, professional-grade zoom lens.