June 22, 2020 at 3:40 pm
#51423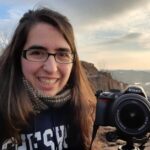 Lydia Bennett
Participant
Yay! It's so great you had the opportunity to scout out the engagement shoot location ahead of time, @creative-click-photography!
I think one thing that could make this look less like a snapshot is the perspective. As you know, when most people grab out their phone and snap a picture, they tend to do so from head or chest level, and that's where I perceive this perspective to be coming from. I like to get down low for a more unique perspective, so I think that's what I would've tried here.
The other thing I'd say is that the image has a "split in half" feeling to me. The path and sun on the left half of the photo, and the trees/rocks on the right side of the photo pretty much equal each other out in weight. I wonder if there might be a way to solve that, and bring more attention on the path into the photo. Perhaps it could be done by stepping over to the left so there was more path and less trees.
I like your crop…it does help simplify the scene!