June 23, 2020 at 4:15 pm
#51468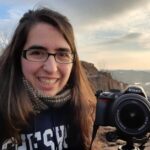 Lydia Bennett
Participant
So glad to hear that the shoot went well, @creative-click-photography! Sounds like quite the scary moment there with your lens though!
What size should I export the photos to give to the couple?
I'd suggest you give them full size photos. Currently, when I export my photos in Lightroom to deliver to a client, I do not resize the photos down, I set "quality" to 100, and set the resolution to 300 ppi (in case they want to print the photos). For now at least, I just give them the highest quality possible so they can print or download however they'd like. My client gallery gives them different options for download size, so if they don't want the full-size photos for some reason, they can download a smaller size if they want.
And, I'm planning to send them a USB with the photos on it. Is this a normal/acceptable way to deliver photos to clients?
From what I know, I think that should be fine. When you set up your website later though, it would be good to have a client gallery where you can send download access to your clients.
Here are a couple resources on Lenspiration that relate:
– This lesson in the Foundations Course speaks on image size/resolution, and uses giving photos to a client as a sample scenario! It's good to review.
– Forum string: Ways to Digitally Share Photos With Clients