June 25, 2020 at 2:50 pm
#51508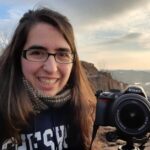 Lydia Bennett
Participant
Wow, it is just so amazing to see the variety of flowers and plants everyone is submitting! Incredible!
Here are my photos!
The first four are ones I shot specifically for this assignment. It was a good challenge to find truly perfect order in nature….like, without any imperfections!? I discovered quite a few things around my yard have little insect bites or a leaf or petal missing, a slight lack of symmetry, or something that made them not quite perfect! 🙂
I enjoyed challenging myself to keep a close watch on my backgrounds. I tried to adjust my position as best I could so the highlights and shadows in the background bokeh would complement the subject placement. One of my sisters actually held the flower and the stalk of leaves in the air for me so I could have a nice simple scene! That helped give me more control over the end result too.
The one of the lavender flowers is one I shot recently, and thought it could work quite well for this assignment.
And the other two are from my archives!