July 2, 2020 at 5:52 pm
#51835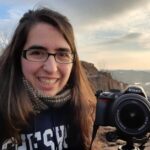 Lydia Bennett
Participant
You know, I don't think it must've been a possibility, or I'm pretty sure I would've stepped back. I'm not sure why though, other than I was getting too much road, maybe, when I tried that? I don't really remember.
I do remember walking back and forth quite a bit to try and find a vantage point. Typically I would shoot most perspectives that I see when I'm sizing up a scene, but this particular time, I was trying to just frame a shot without having to take pictures of every. single. option. before settling on "the best". But now I don't have pictures of some of the other perspectives I looked at when I was there! 🙂 I recall intentionally trying to only photograph perspectives that I felt were promising though.
And it finally dawned on me why you couldn't quite understand my question in the chat during the webinar! It would've helped if I used correct terminology! …I meant to say, I was wondering what a widescreen crop would look like (as in, 16:9), but I said "wide-angle". 🙂
So I've attached a widescreen crop I tried out, with additional quick edits on the sky, as well as _0006 with some more quick edits.