July 2, 2020 at 6:04 pm
#51838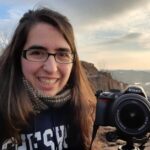 Lydia Bennett
Participant
I can't see that much of a difference in quality between 100 and 65, and yet, on an experiment I just ran, the difference in size is 10MB vs 1.63MB.
I find this very interesting. Sooo, then why export at 90 or 100 if you can save that much space by going with 65 or 70?
When I've tried running experiments myself, it gets a little tricky because I'm not exactly sure what I'm looking for in quality difference, if that makes sense.
To explain with an example: I know what I'm looking for when I'm trying to see what the difference is between ISO 100 and 400. I know what grain looks like in a photo. So if I wanted to run experiments on quality differences between different ISOs, I could do that. But when I first got going in photography, I couldn't have done that so well. I didn't see or identify grain the same way I do now. (And once I learned what grain looked like, it's been bugging me ever since! :[ 😀 )
So this is why I had started exporting at quality 100 for clients since I do want them to have the highest quality photos possible.
Hope that question makes sense. If not, well I can try and re-explain 🙂