July 11, 2020 at 12:57 pm
#51994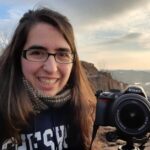 Lydia Bennett
Participant
or others, do you have any tips to share on how to get real smiles on kids?
That's a great question, @esther. I think a lot of it has to do with the age and maturity level of the kids, and whether or not they'll smile "on cue" (i.e. "Hey, so-and-so, can you give me a grin?"). If they're a little bit older, it can be easier to get this done. If they're younger, more distractable, or shy, that's when it takes some creativity. I'd say one of the biggest factors that will get kids to smile naturally is if they feel comfortable and happy with whatever they're doing!
Just the other day, I was doing a session with the family, and for most of the time I was doing the full family poses, I could not for the life of me get the 18-month-old to smile at me. He was too young to laugh at silly jokes I made, and, why on earth is he going to grin just because this over-energetic stranger is grinning at him for all she's worth saying "Where's a smile?" and whatever she can think of to make him pop a grin?! (I think my smile eventually became contagious though, because I did end up with some photos where he was smiling.)
However, later when he was just playing around, he started to climb around on a tree, and it was when he was playing peek-a-boo that I got these adorable grins. He was comfortable, playing and having fun so I didn't need to "ask him" to smile. He was smiling because he was actually happy, and he was looking at the camera because it was in the same vicinity as the person (me) he was playing peek-a-boo with. 🙂 If you have a parent, sibling or someone behind the camera doing things to make them smile, that usually works too.
When you're working with multiple children at once, it can be a challenge. In that shoot, by the time the 18-month-old would stop frowning curiously at me, the 3-year-old had decided he had smiled enough and wanted to wanted at the geese in the nearby pond – in the opposite direction of the camera. Once I got his attention back on me, the 18-month-old had lost interest.
A big take-away from that fast-paced challenging shoot for me was, take time to really interact with the kids, get them comfortable with you, and comfortable with the camera. Again, TOTALLY easier said than done, especially if you're trying to put together a pose with the full family. 🙂
But for this assignment here, it allows for a more candid feel, so that's really nice.
Hope that helps a little bit!