August 10, 2020 at 5:54 pm
#53167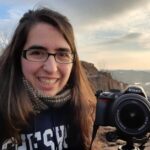 Lydia Bennett
Participant
@joshua_ong, I keep meaning to comment on these photos, but time got away from me! 🙂
I love the rich colors of these fruit spreads! I think if I was arranging this photo, I would've tried to put all the jars in an distinct order of darkest color to lightest color. It looks like you generally did, but I think I'd try to get it even a little more perfectly in order of shades of color. That's the perfectionist in me. 🙂
I like the angle coming a little bit more from a side view, but I think it really could be amplified even better if you really got in closer to the one end, and then had the rest of the jars leading away diagonally into the background, similar to the photo that @esther gave as an example. That could really give it a dynamic look, and you would get some nice depth of field.
The straight-on shot is nice, but it just looks to me like you've got some distortion going on there, so I may have stepped back and zoomed in to avoid that. There's a fantastic video here on Lenspiration on the amazing effect Focal Length has on your photos, that comes to mind here. 🙂 You should check it out if you haven't already!
As for the lighting, since that glare is happening on the jars, I would definitely experiment with different angles of light, compare differences, and see which one I liked the best.