November 4, 2020 at 3:09 pm
#55072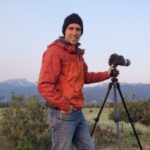 James Staddon
Keymaster
Wow! Soooo beautiful! Been eagerly looking forward to seeing your shots from that trip!!
First off, it is absolutely evident that there is an artistic flare to all of your shots. They are TOTALLY not your normal vacation snapshots. So much energy and effort goes into the logistics of a vacation that often not much time can be spent on intentionally documenting the vacation artistically. However, when developing an artistic eye is part of your everyday life at home, suddenly, artistic flare just starts showing up in your vacation photos without you hardly even thinking about it! The perspectives, DOF, clutter-free backgrounds, subject placement, etc. all testify to someone who's been doing photography for a while.
A couple thoughts on the shots:
* Beautiful DOF. Love how it appears the little guy's got food stuffed away in it's cheeks. 🙂 If cropped, I'd leave a little more room below it's left foot.
* Amazing green color! Very simple, yet not too simple shot. Reminds me of "the conies are but a feeble folk, yet make they their houses in the rock." It almost looks like it's preaching. 🙂 If cropped, I'd leave a little more breathing room under it's tail.
* A more traditional shot. If you haven't already applied sharpening in LR, would suggest doing that.
* So great. Not much I can think to say about this. If I were here, I might try a second shot wider (if it could still be distraction-free) for a photo of "a mountain landscape with a unique tree in it" in addition to this picture, which is a photo of "a unique tree in a mountain landscape".
* It's like the geyser is reaching to the clouds, and part of the clouds. 🙂
* Love the two together. Maybe include some blurred out foreground grass or something, to increase the impression of depth. If cropped, I'd leave a little more room below the bison's nose.
* Just love the movement. A good amount of space in front of the bison to "walk into".
* My favorite. Probably because of the lighting. The green leaves add a nice element of color variety without being so eye catching that they're distracting. Perfectly composed. Great DOF. Really like this shot.
* Really like this shot too! She really looks like a pro!
* Looking for a subject. Nothing grabs my attention enough to want to dwell on it except for maybe the odd break in trees in the top right area. Perhaps my eye would be attracted to the circular shape of the red-colored pool if the "other pool" on the far right was completely cropped off?
* Such an amazing place! Been there; know how difficult it is to get an artistic shot in the middle of the day there. Done well, though here, playing with textures and lines and removing all distracting elements. I think maybe cropping some of the bottom off such that the horizon line was closer to the bottom third might help me appreciate the lines and textures in the distance more.
* Fun. 🙂 Most people don't think to shoot the closeups like this at a place like Death Valley, I'd say. 🙂
* My other favorite. 🙂 Just the simplicity, the textures, it's perfect. Perfectly edited. Just want to keep looking at this photo.
Well done!!