November 18, 2020 at 3:10 pm
#55294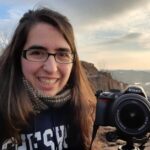 Lydia Bennett
Participant
Wow @esther! That looks like quite the vacation!
The pictures of the squirrel are just too cute! I like both the first and the third… I like the black background contrasted behind its head in the third, but the first one is unique, just being the squirrel all alone.
It looks like you did a great job of working with what you had, as far as midday lighting goes. When on a family vacation, we can't always time things so we're at various locations at those "epic" times of day like golden hour or sunrise/sunset, right? But looks like you did the best you could with what you had!
Of the landscape shots, I know it's rather unoriginal of me but my favorite is the Grand Canyon! I like the patterns that the shadows of the clouds cast on the scene, and the placement of the horizon line is great. It really gives the feeling of vastness that the Grand Canyon is famous for.
So many iconic places in one trip – that must have been amazing!