November 21, 2020 at 12:19 pm
#55355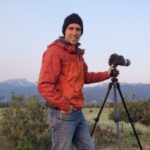 James Staddon
Keymaster
Thank you @buddingphotographer!
I don't think I've ever recommended bridge cameras before, but what you've said makes sense. Perhaps bridge camera technology has advanced more than I was aware of. I guess the thing that bothers me most is the shutter lag. Also, the fact that they're usually so small, and use a screen instead of a true viewfinder, makes me feel like I can't get steady pictures.
Ultimately, what you said about goals is where the decision is going to be made. I would personally recommend going with a cheap DSLR (like a Canon Rebel T5i or T6i), so they can upgrade lenses and stuff later if they want and still have a decent body. It also depends on the age. If they're 13 years old, then go with the bridge, let them wear it out, and then see if photography is still an interest when they're 16 or whatever. If so, a DSLR would make a nice upgrade.