November 21, 2020 at 12:51 pm
#55358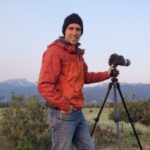 James Staddon
Keymaster
Yes, this happens to me too. 🙁
First, try different white balances. If you shoot RAW, then you can do this in an editing program and you'll get the same results as on location (changing the color later with JPGs doesn't work as well).
Second, it could be the screen you're using.
But most likely, it has to do with the limitations of the colors the camera can pick up. I would have to let someone more geeky than myself explain exactly why, but digital cameras aren't the best at picking up reds especially.
I almost always edit photos to try to get the colors to pop or look like they were in real life.