November 21, 2020 at 2:15 pm
#55366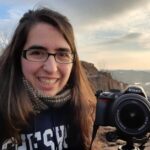 Lydia Bennett
Participant
Here are my submissions! I did not take time to edit out people, cars or telephone wires (like others have said) since these are reference photos.
I shot the first set of photos while out on a walk with some of my siblings. The bridge is on a trail that goes behind our church, and I had photographed it once in [post-snow] winter when everything was brown, so I was pretty sure it would look nice in fall. Thankfully there was still a decent amount of color left in that particular area. The sun was going down fast, but light was still on the treetops so it provided some nice sunshine/shadows contrast.
The next set I took after doing a portrait shoot at a local park…I had a few extra minutes so I went around and found some areas where the trees were casting picturesque shadows, and I could shoot some sunbursts!
And the final two photos were just a random morning that was a little foggy. The autumn colors were almost all gone by that time, but our neighbor's woods across the street furnished just enough color, and the sun was coming through the remnants of fog that I grabbed the camera and took some shots.