November 26, 2020 at 11:34 am
#55605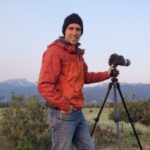 James Staddon
Keymaster
Looking at that comparison photo @buddingphotographer posted on November 21, 2020 at 6:42 pm, reminds me all the world of a brochure I saw one time that had all the greens washed out (I don't think there was much red color in the brochure). Since I was in the bindery, I asked the pressman, and he said something like "yeah, that's what happens when an RGB file (instead of CMYK) is printed". Without knowing the details of either that past experience or what you're experiencing, my birds-eye view perspective is that it probably is a RGB vs CMYK issue somewhere.
That was probably 10 years ago, so I don't know what new technology printers may have these days with auto-converting RGB files to CMYK, but I've always made it a point to send things to commercial printers in CMYK.
I also distinctly remember colors looking way off after learning that a digital press had "not been calibrated" in a while (like, in over a week). After calibration, the colors looked better.
But colors will always not look as perfect on paper as they do on screen. So I've learned not to be too particularly picky. The viewer of the calendar will not have seen the pictures on a screen before.