December 8, 2020 at 1:56 pm
#55784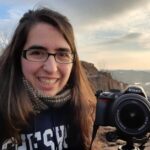 Lydia Bennett
Participant
WOW, that is indeed a beautiful sunset!! Such a blanket of color in those clouds!
I'm noticing the silhouette aspect of the landscape, and thinking that would be something to capitalize on in this sort of situation. I see a windmill on the distant horizon, and I think if you were able to zoom in (or get closer to it) and make that and the trees on horizon a more prominent element in the photo, that would really complement the colorful sky. Just looking for those shapes to bring out as silhouettes against the sky.
That being said, I think my favorite photo of the three is the first one. The sunset fills the photo nicely, and I think the horizon line is placed well.