December 9, 2020 at 6:47 pm
#55804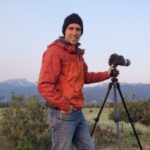 James Staddon
Keymaster
I'm excited for you @loganlamar! Keep up the good work of study.
Never been in your situation, but here's what comes to mind right off. Most anything will spring out of your current connections. Talk about it with everybody you know personally. Does the school have a dedicated photographer already? If so, do they need anything? If not, what does the school and it's faculty need? I wonder if some sort of trade-of-service could be more lucrative than selling actual services or product. The best way to make money as a photographer is doing portraits for individuals, families or weddings (if you're into that). See if people need an event photographer. Do you know a professional who needs a 2nd photographer? If you can't find anything through personal connections, perhaps find a local photography club and ask them, or "Join as a Professional" on a site like Bark.com. The service is what you're going to want to sell, not necessarily the product. Perhaps flipping equipment: buying broken/used equipment, getting it fixed locally, and then reselling it for more on Ebay. Another thought is coaching; people may pay you to teach them how to edit or organize their photos. Sell your knowledge of photography.
Let us do keep brainstorming!
(By the way, @ernestf-lloyd, like your new profile picture. 🙂 Looks like your someplace other than PA?)