December 21, 2020 at 5:37 pm
#56126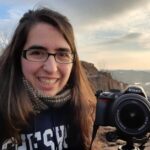 Lydia Bennett
Participant
I like the idea of doing family photography sessions, I know I could shoot videos for a business, and I've heard a bit about real estate photography. I guess my question then lies primarily in marketing. I have skills and equipment, but how do I get the ball rolling?
If you haven't already, I think it would be good to set up some sort of portfolio so people can see your work. Even if it's a small sampling, you can add to it as you go.
As far as marketing, I can't speak from experience since I don't particularly market myself at the time being. However, like you said, the photography world is full and seems pretty competitive, so you have to find a way to make yourself stand out.
I think some ways to do that is, like James mentioned, finding needs to fill. For example, a lot of photographers are expensively priced and thus a lot of families really can't afford them, so perhaps pricing yourself more affordably than others in the area would fill that need and connect with that "unreached group". You'd probably have to do more sessions to make up the money, but if it fills that need and generates business, it might make up for itself.
Perhaps there's a niche (like, homeschool families) you can reach out to. Contact homeschool groups or your state's homeschool organization and see how you can connect with families that would be blessed by your services.
Another idea I've had is to market family sessions as a gift to give others (who couldn't otherwise afford it). You could charge higher prices, but still serve those folks, by marketing your sessions as gifts. People like to be generous, and giving the gift of happy family memories to a friend is a great gift! 🙂
You might also consider pricing yourself in such a way that you could offer discounts so people feel like they're getting a fantastic deal by working with you (and of course, that should be the case).
Like I said, not speaking from experience here but just some ideas that came to mind!