December 24, 2020 at 1:10 pm
#56319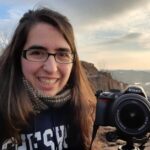 Lydia Bennett
Participant
Love it, @vincent-charmaingmail-com!
When I first saw the request for the concept of a child with light on their face/dark background, I wasn't sure how on earth I'd do it. Putting the child in front of a window did just the thing, though! So glad you did that in the example images, James!
Also, how to get a 1 year old to look up "in wonder"?! Well, I sat her in front of the window, and then my cousin who was with me held a fruit snack up in the air…a great attention-grabber for a child who loves fruit snacks. 😀 Then he handed it to her, and if I needed to take another shot, he'd do the same thing again. I thought that was a clever idea, and it worked really well.
For the second concept, I was having a hard time thinking up how to portray God making man in His own image. I had the idea to show someone creating something, or making some action of creation and last-minute I thought I would try doing it by lighting a candle. Sort of like giving it life. 🙂 I set up a mirror in my room in an area where I had found a background I liked, put my camera on a 10-sec timer and…..burned through a bunch of matches in the subsequent attempts! 🙂